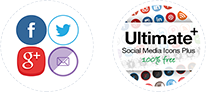 All the USM(+) power
The USM Premium plugin contains all the features which the USM and USM+ plugins included, which is already quite a lot!
But of course it offers much more, keep reading…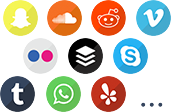 More platforms
We added Snapchat, Soundcloud, Vimeo, Skype, Flickr, Whattsapp, Tumblr, Reddit and several others to the bunch.
If any icon is missing which you want, then please let us know about it so that we can include it as well.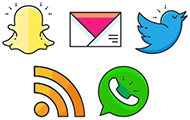 More (default) design styles...
More design styles means a better match to what your site needs – and a more professional appearance!
Here again, if you need a design style not covered yet please let us know.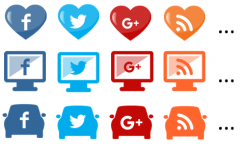 ...and also themed styles!
To go the extra mile, we decided to create design styles which match the topic of your website. For example, if you're an IT site, use the social media icons which look like computers. Have a girly site? Use the love hearts-icons etc.
We're currently building up this database of themed styles, so if your site is on a topic for which no icons exist yet, let us know.

Better sharing & following features
You want to get followed & shared. The premium plugin increases the chances that this happens.
For example, you can also choose a "Follow"-feature for your Facebook and Google+ icons, so that people can follow you on Facebook & Google+ directly from your page, i.e. without leaving it.
Also the sharing texts got improved. For example you can now automatically include your posts titles in the tweets which people send out. That makes your tweets more attractive, generating more traffic.

Placement on specific pages
In the premium plugin you define the pages where the icons should (not) be shown, e.g. by:
Page type (homepage, post page, tag page etc.)
Urls (e.g. urls which contain string xyz)

Positioning by anchor & margins
In the premium plugin you can define where your icons should be displayed by defining:
The anchor (top-left / bottom-right etc.) and the
Margins (e.g. 200px from bottom, 100px from the left etc.)
Icons can be fixed, or float as the visitor moves down the page.
This makes placing the icons even easier (no CSS knowledge needed).

Optimization for mobile
In the premium plugin you can define separate selections for mobile, for example:
…which icons should show on mobile (which might be different from tablet & desktop)
…where the icons should show on mobile (floating or not, different positions etc.)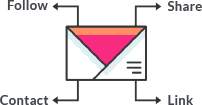 More functions for Email icon
The Premium Plugin allows you to give the email icon more functionalities:
Follow: Visitors can subscribe to your site and get email updates (SpecificFeeds)
Share: Visitors now can also share your site/blog post by email
Contact: Allow visitors to get in touch with you by email
Link: Link the icon to anywhere you want (e.g. to your contact page or newsletter page)

More pop-up options
The premium plugin provides much more variety with what the pop-up can do, for example:
Set a limit to how often the pop-up is shown to the same user
Decide to show the pop-up when users try to leave your page
Define more than one trigger when pop-up is shown
This means: more likes & shares!

(Friendly) support
If you need help with placing the icons on your site, or face any other issues due to our plugin (we cannot fix complicated template issues or conflicts caused by other plugins), we're happy to help!

Many more settings & options
The premium plugin offers many more options to show the icons in the way you like, for example:
Define font size & type for text before icons which appear before or after blog posts
Define margins before & after icons for icons before & after posts
Set vertical distance between icons (esp. useful if you decided to show the icons only vertically)
Omit the tooltip if you've given an icon only a share feature (i.e. visitors can click directly on the icon)
Benefit from specified image dimensions
Also add a Linkedin share icon before/after posts
Etc.

...and even more features in the pipeline…
We will continuously develop the plugin further (also based on your suggestions). All new features will be free of charge for you as premium user.