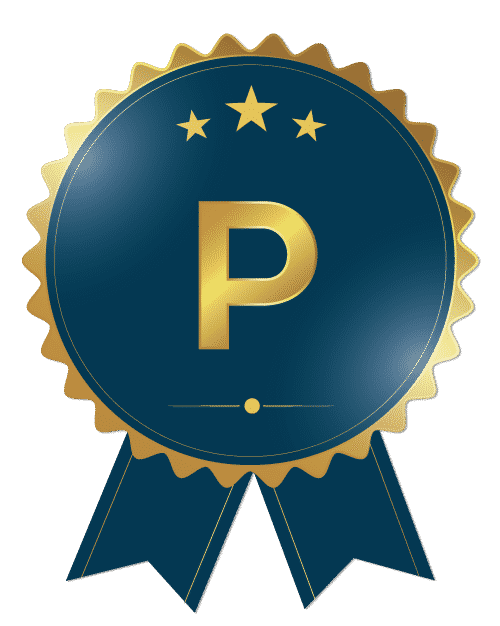 USM Premium
...from 29.98 USD only. Support and updates are limited to six months, but after that it will not be disabled, you can just keep using it with full functionality (even if you don't renew).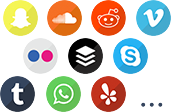 Many platforms
Beyond the usual suspects (Facebook, X etc.) we added Snapchat, Soundcloud, Vimeo, Skype, Flickr, Whatsapp, Tumblr, Reddit, Amazon, Angie's list, Blogger, Houzz, Goodreads, Steam, Print, VK, Xing, Yummly, Yelp, Telegram and several others to the bunch (see the entire list).
If any icon is missing which you want, then please let us know about it so that we can include it as well. We can add them quickly.
Many (default) design styles...
More design styles means a better match to what your site needs – and a more professional appearance!
See a full list of additional icons. Here again, if you need a design style not covered yet please let us know.
...and also themed styles!
Animated icons
To give your icons a wow-effect we created animations. You can decide if they should repeat continuously (as shown on the left) or e.g. every 30 seconds, or only once.
Also, as an alternative to animate every single icon, you can show one animation pointing to your other (static) icons, e.g. with a dynamic text that says "Please share!".
See all animated icons.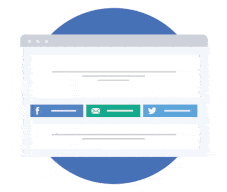 Responsive icons
Make your social icons look great on all devices, be them desktop, tablet, and smartphones.
Your icons will adjust automatically based on the screen size and render without pixelation, creating a better user experience and usability.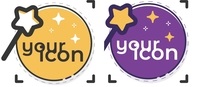 Custom icons
Don't just settle for default icons! Upload your own tailor-made icon sets.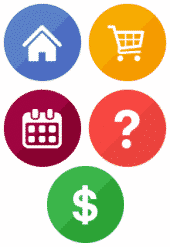 Link to different parts of your website
Think beyond social media: we also provide icons which you can use to link to other parts of your website, for example:
A home icon to get your visitors back to your homepage
A shopping cart icon to go the checkout screen
A calendar icon to make visitors schedule an appointment with you
A question mark icon to link to your FAQ page
A donate icon to allow visitors to send you money
…and so on. See our list of such icons.

The best sharing, liking & following features
You want to get followed & shared. The premium plugin increases the chances that this happens:
Define which pictures & snippet text should get shared for every page or post
Add pictures and snippets also to post on X ('X cards')
Use an URL-shortener for cleaner links
Define the specific page which gets liked (which might be different than where the button appears, e.g. your Facebook page)
Etc.
All this leads to more sharing, more attractive sharing content and more traffic!

Place on specific pages
Define the pages where the icons should (not) be shown, e.g. by:
Page type (homepage, post page, tag page, etc.)
URLs (e.g. URLs which contain string xyz)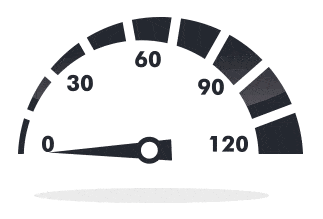 Optimized for speed
It's important that the plugin doesn't negatively impact your user experience by making your site take long to load. We therefore:
Optimized the plugin in all ways possible (optimized code, compressed pictures etc.)
Made the icons load after everything else on your site has loaded, i.e. the user experience isn't impacted
These improvements made our plugin one of the most optimized on the market. Learn more

Position by anchor & margins
Decide to show your icons vertically as well as define where your icons should be displayed by defining:
The anchor (top-left / bottom-right etc.) and the
Margins (e.g. 200px from bottom, 100px from the left etc.)
Icons can be fixed, or float as the visitor moves down the page.
This makes placing the icons even easier (no CSS knowledge needed).

Optimized for mobile
Define separate selections for mobile, for example:
…which icons should show on mobile (which might be different from tablet & desktop)
…where the icons should show on mobile (floating or not, different positions, etc.)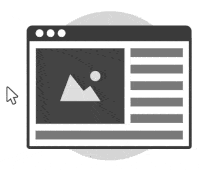 Pinterest "Save" icon over pictures on mouse-over
Get more sharing of pictures by showing a Pinterest-icon on mouse-over. Options include:
Decide if a squared, small or large rectangle Save icon should be shown
Set the language (for rectangle Save icons)
Decide where to show it (on which pages, min. dimensions of images, etc.)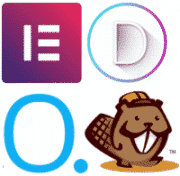 Compatible with all Themes & Page Builders
We took some additional steps to make sure that all icons & features work well with any theme or page builder you use.
And if there still is a problem – no issues, we're happy to fix it, so that the icons work perfectly in your environment!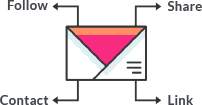 Many functions for Email icon
Give the email icon different functionalities:
Follow: Visitors can subscribe to your site and get email updates (SpecificFeeds)
Share: Visitors now can also share your site/blog post by email
Contact: Allow visitors to get in touch with you by email
Link: Link the icon to anywhere you want (e.g. to your contact page or newsletter page)

Cool pop-up options
Give your pop-ups a boost with many options, for example:
Set a limit to how often the pop-up is shown to the same user
Decide to show the pop-up when users try to leave your page
Define more than one trigger when the pop-up is shown
This means more likes & shares!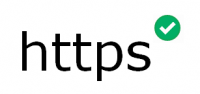 Correct count display on https
If you switched from http to https, then the number of facebook shares & likes may not display correctly anymore. That's because when a user likes/shares a page, the specific URL gets liked/shared, so if the URL changes (e.g. due to a switch to https) then the counts show 0 again.
The premium plugin fixes this by giving you the option to show an aggregate count of the likes/shares of both the http- and https-version of the page. So people can see again your hard-earned likes & shares! 🙂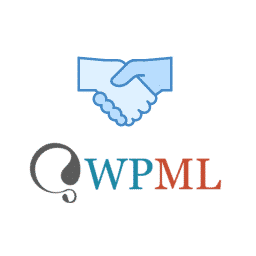 WPML compatible
USM Premium is now compatible with WPML – the most popular multi-language plugin for WordPress!
Thanks to the combined features of the two plugins, your social icons' language is automatically matched with the language set up in WPML which results in more shares and more traffic.

Tons of settings & options
Show the icons in the way you like, for example:
Align (left/right/center) the icons if placed via widget or shortcode
Define font size & type for the text before icons which appear before or after blog posts
Show the subscription form in the pop-up
Define margins before & after icons for icons before & after posts
Set the vertical distance between icons (esp. useful if you decided to show the icons only vertically)
Place icons at the end of pages (not only posts)
Add up to 10 custom icons
Give click-to-call or SMS-me features to your custom icons
For Pinterest counts, also show the number of PINs from your Pinterest account, or of a specific board, or the number of your Pinterest followers
Omit the tooltip if you've given an icon only a share feature (i.e. visitors can click directly on the icon)
Decide if the tooltip appears above or below the icons
Add a Linkedin share icon before/after posts
Place the rectangle icons via shortcode
Etc.

No credit link required
You won't get asked to place a credit link (at the bottom of your site) so that your site stays nice & clean 🙂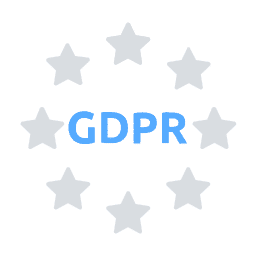 GDPR compliant
The plugin allows you to be in-line with the law, including the new EU privacy regulation "GDPR":
Our plugin does not collect any user data when your visitors click on the social media icons, unlike many others (which then sell that data for profit)
Our plugin does set cookies in case you user certain selections with the pop-ups – read more
Our plugin uses by default embedded codes from social media plugins like Facebook which can be replaced for GDPR-compliance – please contact us after purchase so that we can give you guidance how to do it (at no extra charge)

(Friendly) support
If you need help with placing the icons on your site or face any other issues – we're happy to help!

...and even more features in the pipeline…
We will continuously develop the plugin further (also based on your suggestions). All new features will be free of charge for you as a premium user.
Yes

, I'm serious with getting more traffic to my website and want the best social media plugin on the market for it.
I understand when i fill in my details below i will get for only 29 USD...
Many more social media platform icons (Snapchat, WhatsApp etc.)

10$

Themed icons to match the topic of my site (standard sets)

20$

Better sharing & following features (direct follow, better sharing texts etc.)

5$

Advanced placement options to show the icons where I want

5$

Separate options for mobile to make it look good for mobile visitors

10$

More functions for my email icon (share, contact, follow, link)

5$

More pop-up options (only show it once to a visitor, trigger it when they leave etc.)

5$

Many other settings and features

19$

All the support I need to set it up in the way I want

30$

Updates including many cool new features for six months

20$
Total normal price

129$

LESS Discount due to package deal

100$

TODAY'S SPECIAL PRICE

29$











...from 29.98 USD only. Support and updates are limited to six months, but after that it will not be disabled, you can just keep using it with full functionality (even if you don't renew).
Money back guarantee: If you're not happy for any reason you can get a refund within 14 days.
Still have questions? Please ask us!